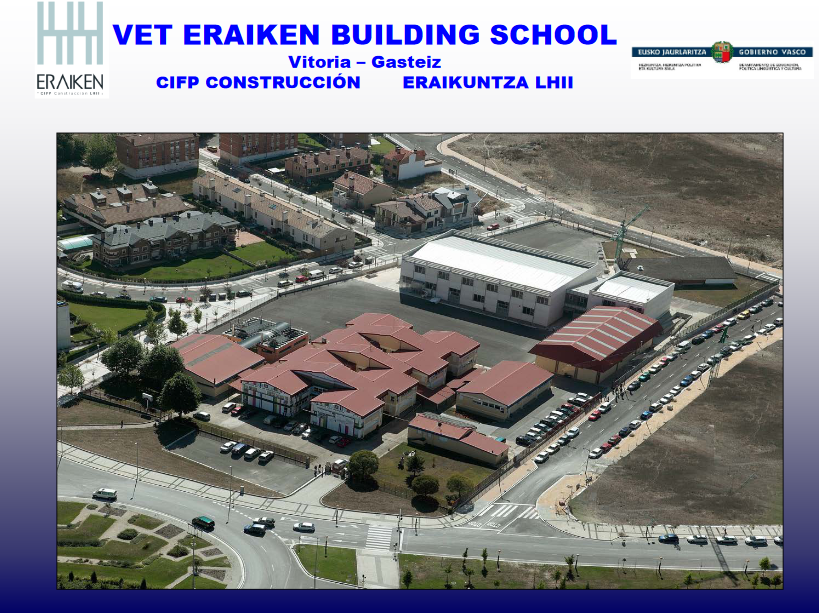 Proyecto: detalles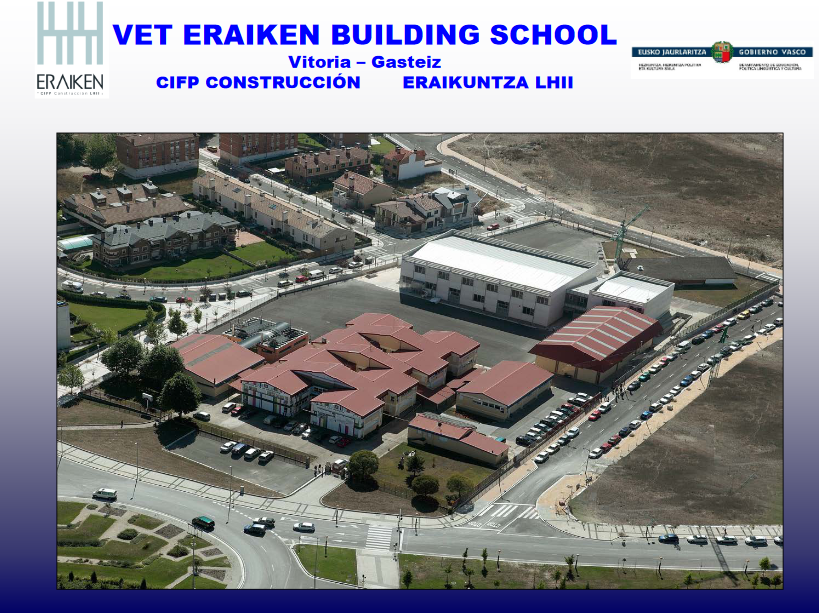 ABOUT US
ERAIKEN –CIFP Construcción LHII from Vitoria-Gasteiz is a public training centre under the Department of Education of the Basque Government. It is concerned with vocational training in building related areas. The geographical area of work covers Álava and surrounding areas.
It was founded in 1991 as IES Construcción BHI Vitoria-Gasteiz by: Education and Work Departments of Basque Government, Economy and Planning Department of Alava Foral Government and the Building Businessman Union of Alava (UNECA).
Until 2001 the school was located in Zigoitia, from this year on it was moved to the current placement in Vitoria-Gasteiz (Los Huetos Av., 33).
Since 2015, the Secondary School changed into Vocational Educational Training Integrated Centre, with the name ERAIKEN CIFP Construcción LHII. It became a teaching open centre that promotes research, education and dissemination.
MISSION AND VISION
The mission of ERAIKEN is to satisfy the training demand in Building related areas, to answer the students' needs by the addition of value to their learning process, to make easier their employment and to increase the prestige of VET.
The vision of ERAIKEN is to be the reference centre in Building related areas training, known by the management and results quality, its good image, its opening to the future and to the social and technological surroundings, its contribution to the improvement of Basque professional competence and its compromise with the Basque VET System.
STUDIES
ERAIKEN offers vocational courses for students who want to properly train, what enables them to:
Have a suitable labour market integration.

Continue studying at University.

Specialise after other studies of update their knowledge.
We also offer Lifelong Learning courses for workers or unemployees who want to improve their skills in specific areas.
Non-formal Training:
Certificates of professionalism and specialization training and retraining.
Formal training:
Construction and Civil Works family:

Installing and Maintenance family:
http://todofp.es/dam/jcr:b65cbcf2-0e17-466d-97bf-82115a00ea83/prevencion-de-riesgos-profesionales-ingles-pdf.pdf
Water and Energy family:

Wood, Furniture and Cork family:
ERASMUS CHARTER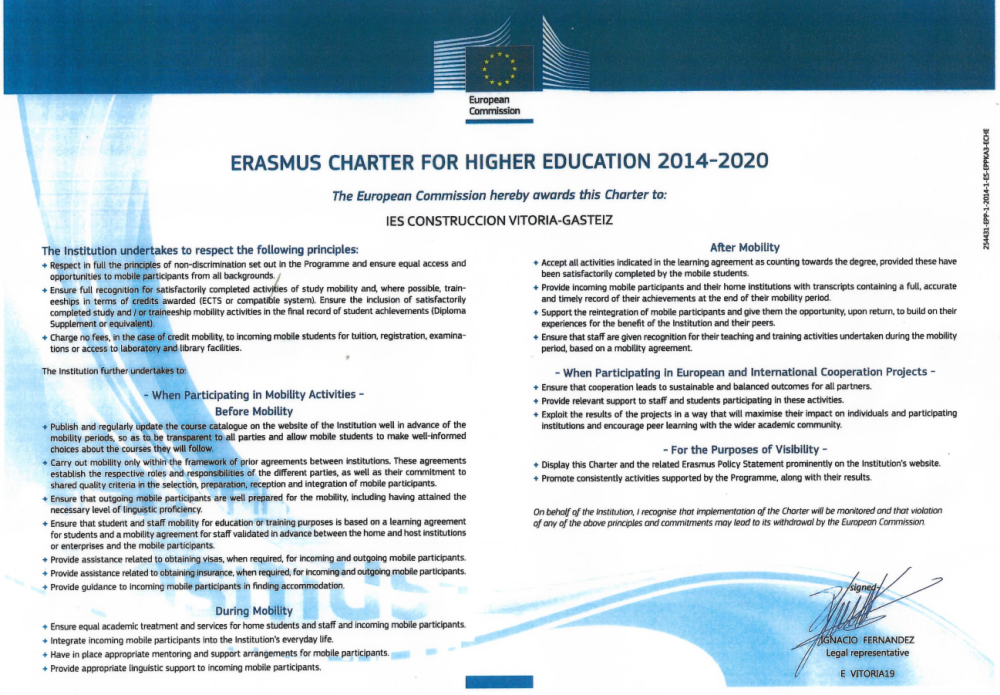 CONTACT
Avda. de los Huetos, 33
Vitoria-Gasteiz, Álava, 01010
t. 0034 945 001 200
f. 0034 945 001 201
INTERNATIONAL PROJECTS
PARTNERS
Cliente